Purchase of secondary raw materials
"We are already sorting waste, join us!"
Not only companies, schools, authorities, but also natural persons can submit material to us. We buy paper according to the current prices on the secondary raw materials market. We are also preparing the purchase of plastic packaging for our other products. We insulate an average of 7,000 houses a year. By using Climatizer Plus® blown insulation in these houses, we will thus prevent the release of 5,600 t of CO2 into the atmosphere. We thus reduce the greenhouse effect.
Upcycling
material utilization of waste that can be transformed in cycles into products or material with a similar useful value, it can also be the same product
REcycling
evaluating the material or finding a use for something that has no other use and is viewed as waste
DOWNcycling
a process where we reduce the volume of waste by reusing it

In 2009, we concluded contracts with the company EKO-KOM a.s. on ensuring treatment and utilization of packaging waste, contract no. (NO/0304). We also cooperate in matters of presentation of the waste collection and processing system for schools and preschools. We are trying to modify production technologies so that we can use waste that cannot be processed in traditional paper mills – dyed paper in mass, wax paper, etc. Based on a subsidy from the Ministry of the Environment fund, we implemented the construction of a sorting facility for paper and plastic waste. With this stage of investment, we have closed the circle of waste management: We will accept paper waste, sort it into usable and unusable components and then produce a new, ecological and environmentally friendly product.
Join us, as well as CIUR a.s. think ecologically, save the environment. Deliver the material to us for recycling and we will pay you the amount according to the current price list. Recycling is worthy.
Schools cooperate – ecology, purchase of raw materials
Who among us does not remember collecting paper at school! CIUR a.s. cooperates with schools on ecological education of children and students. In addition to organizing lectures and excursions, the CIUR company buys waste paper from school facilities. The purchase is not only one of the ways of obtaining input raw materials for other products, but also an opportunity to involve our youngest in the waste sorting system. The wish of the CIUR company is the involvement of our children in the formation of an ecological subconscious. The basis is an explanation of why to sort, how to sort and how sorted waste can be further used.
What do we offer in this area?
Paper collection
Suitable for school and preschool facilities, or interest groups. We provide reimbursement for collected waste, transport and ecological use of waste to organizations that are interested in participating in collections.
Certificate
For each collection of paper, the school will receive a confirmation of the amount of collected paper for further processing in our technological facility. For the whole year, the school will receive a "Certificate" on the total amount of paper collected and with information on how many mature trees the school saved in the forest.
Excursion
Upon agreement, we will allow the children to see the path of their collection from sorting to the production of new products in the form of an excursion. The excursion takes place at our production plant in Brandýs nad Labem. The children are most looking forward to the story about the movie snow. Every Hollywood blockbuster is all the more interesting for them because a Czech company is involved in it, for which they collect waste paper at home.
What do we buy?
Waste paper – a mixture of newspapers, magazines, leaflets, office paper. ATTENTION! Food paper, pizza boxes, etc. are contaminated and do not belong in the collection of secondary raw materials.
Cardboard
PET bottle caps
PET bottles
Paper collection options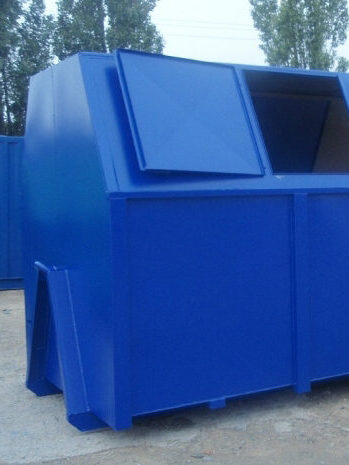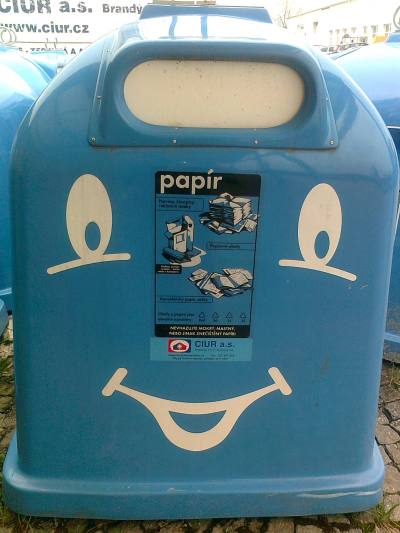 Disposable paper collection:
On the agreed day, we will deliver the container with a protective roof. Collection paper is loaded immediately.
Weekly paper collection:
We will bring the container with the roof to the school for 1 week. We apply this paper collection in larger cities where there are more schools and each week a different school collects, or the container is emptied and immediately moved from one school to the next one.
Year-round paper collection:
We offer schools year-round delivery of small containers of bells free of charge, which are always emptied into the collection vehicle after filling.
The method of paper collection is always carried out individually according to the possibilities of the school. For CIUR, the fact that the school has a waste room, a place to place small container bells on the school premises, a larger amount of collected paper, the distance to Brandýs nad Labem (transportation costs), etc., has an influence on paper collection. We will discuss everything individually, it is important communication. The transport of collection paper is paid for by CIUR a.s.
Contact our great coordinator, company guide and heartthrob in the collection of secondary raw materials
Tomáš Kraus, manager for ecology and purchase of secondary raw materials, on the phone number 326 901 403